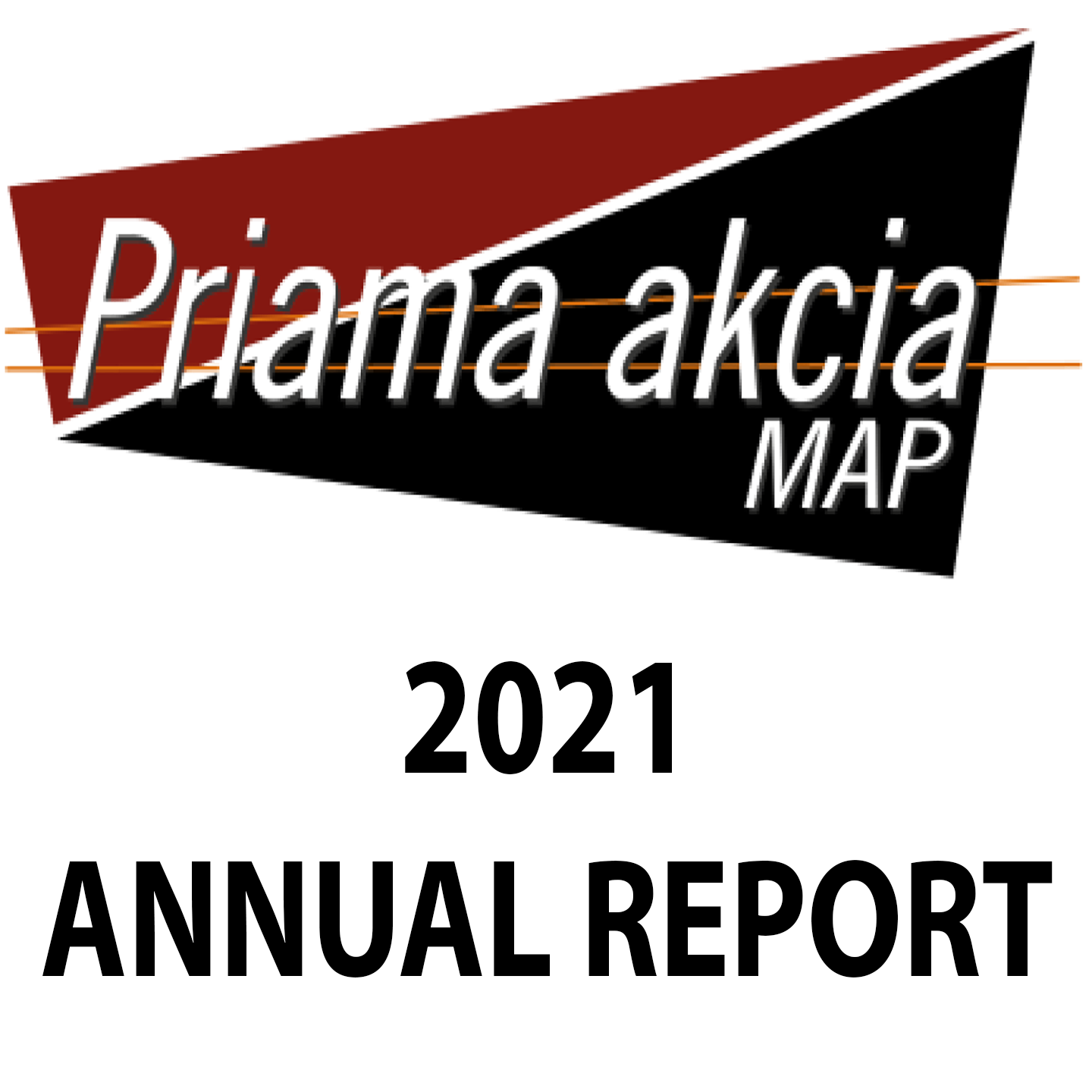 The year 2021 was mainly about developing contacts in the regions, solidarity activities and participation in public events. We also won another conflict and supported several workers with their workplace problems. We took part in actions against the climate crisis, coordinated the International Week Against Unpaid Wages and hosted the IWA Plenary and Extraordinary Congress.
CAMPAIGNS
Get Involved In Your Region
In May, we launched a call to the regions called "Get Involved", which aims to launch activities in the regions of Slovakia. For this purpose we created stickers (FB link) and a short questionnaire describing the ways people can get involved in our activities or start their own activities. We were delighted with the response to the questionnaire and establish contacts with new people. You can find the questionnaire at this link: www.priamaakcia.sk/zapoj-sa.
Solving Problems At Work
Thanks to the "Problems at work?" campaign and also independently of it, we received a number of questions and requests for help or advice about problems in the workplace during the year. Below we mention the cases that we dealt with at length and achieved some results, but in addition to these we have also communicated with several other people in different sectors about workplace related problems.
The case of a former worker at a veterinary hospital escalated into a conflict. Eight days after we delivered a letter with demands in a group of supporters, the worker got the money in her bank account, so we won before the conflict went into the public phase (EN).
Other cases were settled without us going into conflict as a union and two articles were written (on unpaid wage and on withholding of tips).
We also addressed sexist practices of VEGAN KIOSK bistro which we eventually summarized in the form of an article.
International Week Against Unpaid Wages
The "Week" took place between 11th and 17th October and was accompanied by activities in at least 17 countries around the world (ES/EN). Organisations affiliated to the International Workers' Association (IWA) promoted the Week in a various ways - some held actions in the streets, others mobilised and prepared for conflicts, others shared experiences from their conflicts, and some published statements and spread information.
SOLIDARITY ACTIVITIES
Fundraising To Support Anarchists In Afghanistan
At the request of the Pakistan Workers Solidarity Federation (WSF), part of the International Workers' Association (IWA), we were involved this summer in financially assisting Afghan anarchist women and men stranded in the Taliban-controlled country and trying to cross borders to Pakistan. All of them eventually succeeded in leaving the country. People could support the cause through a paypal account or by donating at various activist or music events.
Solidarity With The Protests In Colombia
On the initiative of our sister organisation Libertarian Union of Students and Workers (ULET, IWA Colombia) in Colombia, we protested against state violence during the demonstrations in May, and published a template protest email to the representative of Colombia in Slovakia.
Solidarity With The Conflict At The Wiener Secession Museum In Vienna
In November, we called for participation in a protest organised by the Vienna Workers' Association (WAS, IWA Austria) in front of the Wiener Secession Museum (info on FB), and we sent a protest e-mail.
ACTIVITIES RELATED TO CLIMATE CRISIS
We participated in several events dedicated to the climate crisis. In September we supported a protest against the construction of an LNG terminal on the Danube riverbank, organised by collectives Bod Obratu, Z Lavíc Do Ulíc and Znepokojené Matky. In October, we published our position on the climate strike (EN/ES) and supported a protest action in Bratislava.
Over the summer, together with other unions in the International Workers' Association, we began coordinating the work of a climate crisis group in the IWA, which was formed at the IWA Congress in June 2021. We also participated in a collective reading of the book Hope Against Hope by the Out Of The Woods collective.
OTHER ACTIVITIES
In April, we donated Slovak edition of Fighting for Ourselves to the newly established Apart community space in Bratislava, and we plan to support the library in the future, too.
We contributed to a special issue of Burič magazine on the topic of anarcho-syndicalism, which was published in May.
In August, we presented our activities at the OAZ(A) Bystro fest and we had an info-stall at an antifascist festival in Bratislava.
In September, we visited the climate camp in Bratislava, and people could also meet us at the opening of the Malatesta Infoshop in Šurany. We also spoke about our activities at an online event of the Canadian anarcho-syndicalist magazine Liberté Ouvriére.
In November, we prepared a comment to anti-vax posts that appeared on our FB page (FB link).
DOMESTIC AND INTERNATIONAL (ONLINE) MEETINGS
IWA Plenary And Extraordinary Congress
IWA held its Plenary and Extraordinary Congress (EN/DE) on 25th-27th June 2021. Due to the pandemic, both meetings had to be held online and not in Bratislava as originally planned. On the positive side, however, this meant that the majority of IWA organizations were able to attend, as we were not constrained by visa requirements or problems with repressive regimes.
Online Meetings
In addition to the aforementioned events we attended, we also organised online meetings. Solving workplace problems, sharing experiences and other topics were part of the meetings with people who used to come to our open meetings before the pandemic, or even with new people.
PUBLISHING HOUSE NAKLADATEĽSTVO BOD ZLOMU (NBZ)
For the International Week Against Unpaid Wages, we made several improvements to the pamphlet "Are you going to a temporary job?" and also the English edition of the booklet "How we coped with problems at work: Conflicts of Priama Akcia Union in 2015-2019".