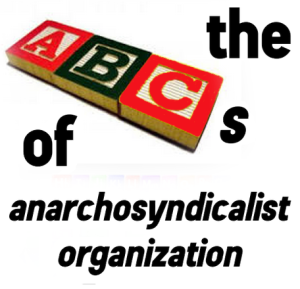 We invite you to participate in a video conference / webinar on anarchosyndicalist organization. Participants may take part in discussions by chat, voice or video in the second half of each part, which lasts 1.5-2 hours.
The ABC's of anarchosyndicalism will be in 3 parts over the course of a month.
A IS FOR ANARCHOSYNDICALISM
What is anarchosyndicalism, how is it different from mainstream unionism, what are the ideas and practices behind it?
B IS FOR BEGINNING
How to start an organization. What should be considered at the beginning stages. Ways to build the organization.
C IS FOR CONFLICT
How to start campaigns in the workplace. Building activity among groups of workers and workplace unions. Choosing areas of activity which match your situation – even if you are a new or limited organization.
The first part, which describes the basic ideas behind anarchosyndicalism, will take place on Sunday, April 19. (Monday April 20 in Australia). Time: 11 AM D.C., 12PM Buenos Aires, 4PM Dublin, 5PM Warsaw, 7PM Moscow, 1AM Melbourne...
For an invitation, please write to secretariado@iwa-ait.org with your email. You will receive information on Saturday.