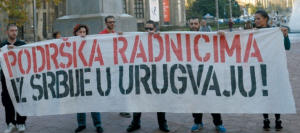 * Serbian workers from "Termoelektro" company in struggle with "Montes del Plata" in Uruguay
The workers from Serbian company "Termoelektro" were subcontracted by their company, and via several intermediaries, to the Austrian firm "Kresta" (under name "Felvok") and they were sent to Uruguay to participate in construction of a large factory for production of cellulose, for the company "Montes de Plata". They haven't received any payment for their work (around 10,000 US$ each). They weren't provided with working but only touristic visas, which expired several months ago - and are forced to pay 20 US$ for every extra day that they are staying in Uruguay. As of this moment, every worker owes state of Uruguay more than 700 US$. As they were struggling for their payment, they were staying in two camps but the bosses have have decided even to kick them out of those camps! Their Mess cards and access to the workplace has been blocked. The workers are without money, food and possibility to return to Serbia. This is when ASI from Serbia has contacted the workers and started a campaign for their support.
The workers had decided, with the help of comrades from Uruguay and CNT-E members living there, to move to Montevideo from their camp, and start protest and hunger strike in front of the Ministry of Labor and in the central square in Montevideo. Comrades from different unions and groups are involved in support of the workers in Uruguay. Parallel with that, ASI has organized informing of Serbian public and solidarity action in Belgrade, which brought back the issue of the trapped workers to public focus. Even the Serbian state is pretending that it is trying
to do something to support the workers too. The struggle is still being fought, after the increase of workers pressure "Montes de Plata" has came forward, and now its legal representatives are participating in the talks with the workers, but, as bosses always do, they are prolonging the discussions, trying to get out of payment etc. With the logistic help of International Workers Association (AIT-IWA) there are actions and protests being prepared in support of the workers wherever the bosses have their interests, and we are inviting all the progressive
workers to join in the struggle with solidarity actions, demonstrations, protest letters or advices.
* Workers from Kragujevac "Autosaobraćaj" company blocking the main road and railway for days now
For more than 5 days workers from public transport company "Autosaobraćaj" from the city of Kragujevac in Serbia have been blocking the main road, as well as - which is even more important - the main railroad line which is, among other things, used for transporting of FIAT cars from FIAT factory in Kragujvac. They have decided to organize this kind of struggle after 9 months that has passed without them getting their pays, and social and health benefits not being payed, and because it was clear that the intention of the bosses of this state company was to destroy company totally so that other companies, supported by the bosses, could take over. The yellow unions have betrayed the workers many times, so this action was organized in a "wildcat" manner, without any union, only by a workers assembly. Workers assembly is organizing the blockade and actions, and delegates involved in talks with the state are recallable in every moment.
ASI members from Kragujevac have been involved in these activities, doing everything they can to support the workers and inform the public (which is under constant flood of misinformation sent by the bosses and Mayer of the city of Kragujevac Veroljub Stevanović) of the real situation. Also, ASI members from other cities has visited Kragujevac and the blockades, and are involved in struggle against the management interests in other cities. The position of ASI which was presented to the workers in our statement titled - "Do not let the railway run!" -
has a total support of the workers. It is of utmost importance for the workers to have support from all over, due to intensive pressure which is made on them by the local politicians and bosses. ASI will keep informing AIT-IWA Sections and Friends of the developments, and asks comrades to be ready to engage in struggle in other manners, if the situation requires it.