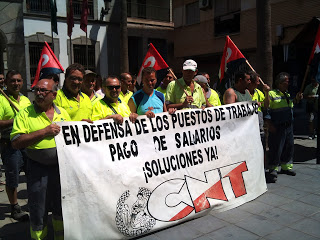 The agreement was subject to the approval of an assembly of the workers, who ratified it.
The Union of Public Services of the CNT Adra informs that last Friday, the 26 of July, the Strike Committee and the Municipality of Adra reached an agreement which allowed them to call off the indefinite strike which was called from 23:00 on July 29.
This agreement was subject to the approval of the workers, which ratified it on Friday by a majority. With the agreement, the Municipality agreed to assume the employment of allt he workers that currently provide the cleaning and garbage collection services, respecting their seniority, both to those who had the guarantee due to technical and administrative conditions, as well as those who had a working relationship with CESPA, except for the administrative personal of 2 people who will remain in the company until the end of the administrative concession and for those from CESPA, in a point of the negotiation to ensure the continuation later, leaving this question in the air.
The municipality also assumes to pay the workers assigned to this service, proceeding to enlist all employees referenced, eliminating the uncertainty over who would take over payment, preventing a situation where the employees doing this public service work would go months without payment. Another one of the agreements reached is that they will respect the professional categories of the workers who have been promoted during the contract, which the tender conditions did not recognize in the situation where the service would be taken back by the municipality. This agreement will avoid legal controversies around this issue.
The workers had to give up the differences between the salary increases applied during the collective agreement of the municipality, when in the service provide they were equal to the real inflation rate and the inflation rate foreseen in the Law on General Budgets of the State, raises applied to the staff of the Municipality, for services managed directly by it, to have the same salary tables. For the Strike Committee, the agreement made is positive even if they did not reach all the initial demand, we are satisfied to have defended the work places of many comrades which were up in the air but they will have to accept a pay cut of about 30-40 euros gross a month, depending on their professional category. For the CNT the positive thing in this conflict was the bonds of solidarity and mutual aid between the workers both who had a guarantee of continued employment and those who didn't. The high participation in the rallies that were made practically each day helped to gain this agreement and the defense of the working places, which in other cases could be lost due to a lack of solidarity among the workers.