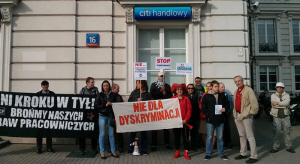 We call for actions against Citibank for January 19-20 or February 4-5. The ZSP from Poland is protesting patterns of discrimination and harrassment, including sexual harrassment, in the company.
There are currently three lawsuits against the corporate giant: one relates to the sexual harrassment, another to pay discrimination, where an employee earned about half of other people on the same position and the third related to discrimination suffered by an employee after taking paternity leave and his dismissal for standing up for his rights. These examples are just the tip of the iceberg. We support the workers fighting against abuse in Citibank and struggling to improve their working conditions.
Solidarity pickets can use the slogan: STOP MOBBING, DISCRIMINATION AND SEXUAL HARRASSMENT IN CITIBANK POLAND!
For a sample leaflet, write to: secretariado@iwa-ait.org
FAXES AND EMAILS
You can also send an email or fax to Citibank to support the workers.
Sample email or fax:
We are writing in support of the workers taking action against your practices of discrimination and sexual harrassment in Poland. Citibank should eliminate these problems from the workplace, guarantee workers equal pay for equal work and stop reprisals against workers who stand up for their rights.
NO MORE MOBBING AND DISCRIMINATION!
NO TO SEXUAL HARRASSMENT!
Of course any variation would be welcome.
Send to:
Citibank / Bank Handlowy Warsawa
fax +48 22 692 50 23
and/or
Citibank Headquarters +1-212-793-3946
listybh@citi.com