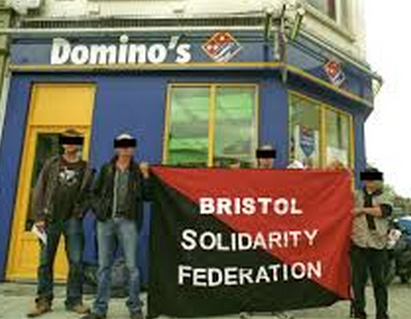 The IWA condemns the actions of a Domino's Pizza in Vigo, Spain, which has unfairly dismissed Emilio, a long-term employee with no previous problems at work. After working there for 9 years, the company decided that the unionist must go and dismissed him for an alleged small theft in the restaurant. The CNT union considers that this allegation was made as a pretext and to avoid eventual compensation they would have to pay for unfair dismissal.
The CNT has been picketing Dominos in response and on July 7, this case comes to court.
We are sending a notice to Dominos that a conflict with the CNT is a conflict with all of us. If this situation is not resolved, we will mobilize ALL OVER THE WORLD. You have already seen us do this. DO NOT TEST US AGAIN BECAUSE WE WILL NOT TOLERATE ATTACKS AGAINST OUR MEMBERS.
Dominos Pizza, enough is enough!
Reinstatement for Emilio NOW!
Immediate compensation for all time he was without work!
Stop the harrassment of employees!