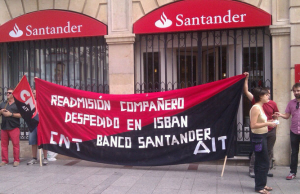 For the past year, the our comrades from the CNT have been in conflict with the above companies which outsource IT workers to avoid direct contracting for Santander Bank and some other firms. ISBAN is owned by Santander Bank and is used to avoid direct hiring. In this way, about 10,000 workers are forced to work in more precarious conditions. Our comrade from the IT Workers Union in Madrid was fired after calling
attention to the problems and trying to organize.
The CNT organized actions around Spain and the IWA around the world. A few other organizations and comrades also took part in solidarity actions that were held in 15 countries.
We understand that the solidarity actions did a lot to help! We have been informed that a resolution has been reached in the case of the individual comrade and that the economic compensation is much greater
than normal. We are sure that this is a result of the solidarity campaign.
After more than one year, our comrade has already moved on to another city and other things. Therefore, he decided he would not like to return to his old job.
We can consider this to be a personal victory for the worker, but the larger problem in the company remains. Our comrade IT workers in Spain are fighting in general against these types of working conditions and we wish them the best in their struggles.
Our comrade points out that he is very happy that the results achieved were due to direct action and international pressure. He hopes that this conflict can serve as an example of our way of working, which is
based on solidarity and show that the IWA is an effective tool for workers who want to fight against multinational corporations.
We thank all the comrades who have shown solidarity in this case.