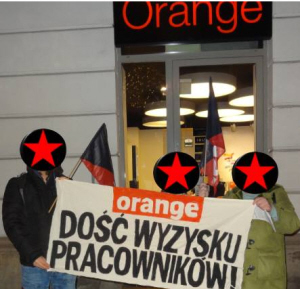 During the international week of struggles against Arvato-Qualytel with pickets and actions at Orange outlets in various countries, the first court case against Arvato-Qualytel and Adecco was to take place, but it did not happen because a favourable agreement was made with the worker.
On the morning of Monday the 19, we were in court at the aforementioned case of one of the suits made by one of the comrades of the CNT-AIT union in Arvato-Qualytel. The respondant's lawyers solicited a recess in order to come to a settlement. After various offers which the worker rejected, all admitting that the dismissal was not allowed, an agreement was reached for compensation of 132 days of salary for each year employed, which is four times more than is set out in the law.
The worker accepted this settlement due to personal reasons, but the conflict has not ended because there are other comrades fighting and two others are waiting their court cases. We think this is an important individual victory, in the sense that the compensation was much higher than normal.
But it is also a bittersweat victory. Because from the collective point of view, it is not a great agreement. We cannot change the model of employment in Arvato is the rest of the staff does not get involved. The worker got a better settlement than other workers who were dismissed because he organized and confronted the company.
In any case, it is clear that we will continue to fight for direct and stable employment in Arvato-Qualytel. For us, this agreement is an example that you can get something by fighting. We still have more lawsuits and comrades fired. We continue demanding their reinstatement and we call on the rest of the workers of Arvato-Qualytel, fired or not, to join the mobilizations.
This first step was the fruit of the campaign made by CNT-AIT Salamanca, extending the conflict to Orange, Adecco and Randstad. And especially fruit of the solidarity campaign which extended to Austria, Slovakia, England, Norway, Poland, Portugal, Czech Republic, Russia and Serbia. Also the conflict was supported in France. And, since it could not be any other way, in Spain there were dozens of actions from the unions of the CNT-AIT in Albacete, Barcelona, Compostela, Cornellá, Elx-Elche, Fuenlabrada, Granada, Iruña-Pamplona, Las Palmas, León, Lleida, Madrid, Miranda de Ebro, Premià de Mar, Vall d'Albaida, Valladolid…
We positively asses the first phase of the campaign for direct and stable employment in Arvato-Qualytel. Thousands of leaflets about the conflict were distributed which informed people that there is a totally different model of syndicalism, different than the official model that the companies like.
THE STRUGGLE CONTINUES AND IS THE ONLY WAY!
DIRECT AND STABLE EMPLOYMENT!
REINSTATE THE DISMISSED COMRADES!
(Shortened version of Spanish text)