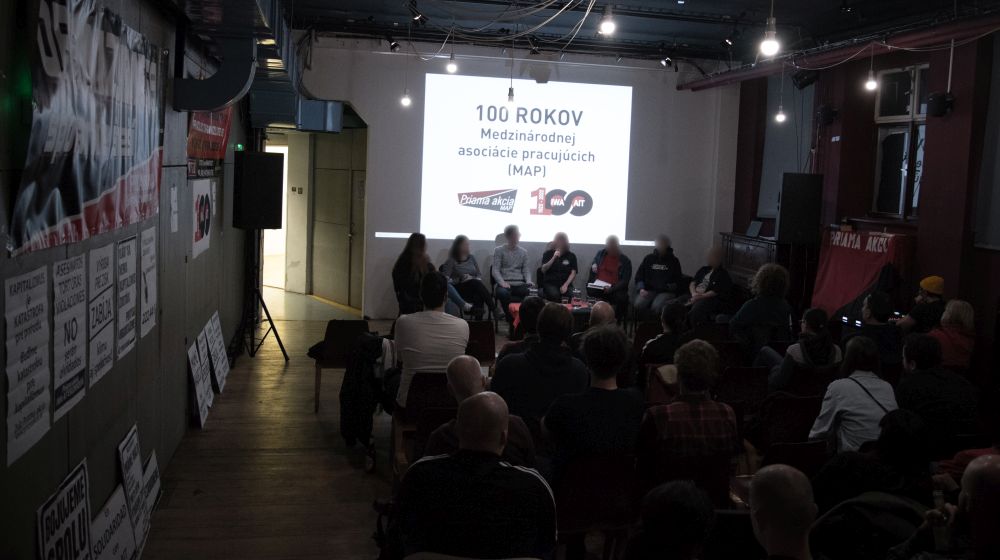 It was not easy to organise an event with international participation and completely new stuff that had to be prepared (presentation on the history of the IWA, PA history exhibition), but our impressions are mainly positive. To a large extent, this is because other people have been involved in the preparations thanks to discussions and planning that took place at our open meetings.
Promotion on the streets and on the Internet, interpreting, moderation, graphic and physical preparation of the exhibition and posters, decoration of the premises, accommodation for the delegations, production of badges, vegan goodies - most of these things were done by people outside our union. It was great to see such self-initiative and a show of mutual aid. Thank you!
Although we know quite a lot about the history and present of IWA, the discussions were enriching, helped by interesting questions from the audience. Our thanks go to delegations from Austria, Poland, Ireland and the UK, who spoke, for example, about how they came to the ideas of anarcho-syndicalism and why they make sense to them from practical point of view in their lives. Approaches to union membership and the strengths and weaknesses of different unions were discussed, including questions like changes that have taken place in IWA in recent years, the situation of women and organising with migrant workers.
Centenary event with similar program is planned for 1st April in Košice in eastern part of Slovakia. Once again we will meet the IWA General Secretary from Poland and we will have as guests new delegations from the UK (Solidarity Federation) and Austria (Vienna Workers' Union).
Priama Akcia