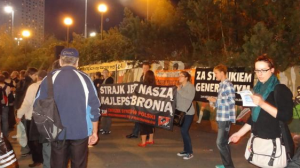 The ZSP held different informational actions in support of the striking workers in Spain and Greece and calling for action in Poland. It carried out informational actions is various symbolic places like the Cervantes Institute or the main press agency, putting up posters and handing out leaflets, including at the Spanish Embassy. At the end of the day it had a small demonstration in the center of Warsaw with banners.
The General Union of FAU Dresden demonstrated in the city with flags and banners, giving out leaflets protesting the social cuts in Europe and in support of the General Strike in the Basque Country and the mobilizations organized by CNT. They went spontaneously from Schlossplatz and the New Market of Albert Town Square to the Spanish Consulate, with a comunique in different languages, including Spanish. Syndicalists from Halle and people from the Libertarian Network of Dresden also participated.
Other Sections like USI sent protests to the Spanish Ambassador in solidarity, alluding to actions if the mobilization continue to increase.
NSF, KRAS, etc, sent solidarity messages and spread information in their media. The Secretary of the IWA sent solidarity and information which reached a good part of the libertarian movement worldwide.