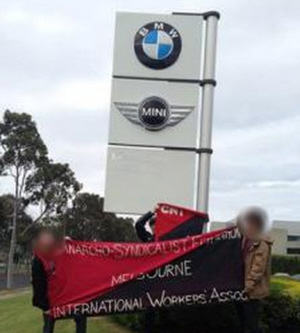 As we were communicating days ago, the International Workers Association mobilized arround the world in many Truck and Wheel & BMW Group workplaces and establishments. It is a pride for our union and the fired delegate, seeing how we can extend a concrete struggle globally, through mutual aid, class solidarity and direct action.
We have shown to capitalists how we can reproduce a conflict globally when they repress and fire us because of exercising our labour rights, breaking the isolation and the lack of communication between the exploited people worldwide. This was only the beginning, and we will fight until the only possible end to this conflict: the reinstatement of the comrade and the restoration of his union activity.
We will review the mobilization developed from the International Workers Association during this week of International Solidarity, which of course has been supplemented with a powerful media boycott. We have received support from many places: Germany, Australia, Spain, Slovakia, Poland, Russia, Norway, Brazil...
From our union assembly, we want to express to all our comerades around the world the biggest sense of brotherhood and the infinite gratitude from the dephts of ourselves. THANKS.
WORKERS SOLIDARITY MEANS VICTORY!!
THE STRUGGLE CONTINUES!!
IMMEDIATE REINSTATEMENT TW-BMW FIRED DELEGATE!!
http://guadalajara.cnt.es/index.php/secciones-sindicales/truck-and-wheel...