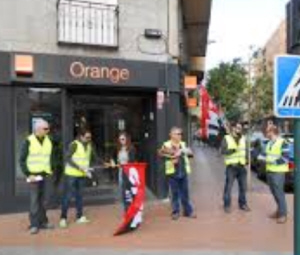 In Solidarity with Workers of Arvato-Qualytel
Starting January 12, 2015, the IWA calls for international actions at Orange outlets to protest the working conditions at their call and customer service center in Salamanca Spain. Many people there are employed on temporary contracts through external agencies, which means their jobs are more precarious and they are not entitled to the same working conditions as directly employed workers. The CNT-AIT has been active in Arvato-Qualytel, which services Orange, but two comrades have lost their jobs. We consider this to be an attack on union activity in the company.
Since we published information about the situation in Salamanca, we have been contacted by workers from other countries working for Orange who also complain about the poor and precarious working conditions. So we can see that Orange has systematically chosen to exploit external workers in many locations. We call on comrades from around the world to picket Orange during the week of January 12.
For more information, see the description of the recent week of actions in Spain: https://iwa-ait.org/content/chronicle-confederal-week-struggle-agains...