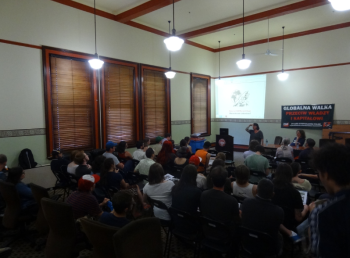 For 12 days at the beginning of February, members of the lWA Secretariat visited Australia. A series of public events, workshops and visits with anarchist and libertarian people took place. The trip promoted the ideas of anarchosyndicalism and presented the types of workers actions that are possible, using successful actions of the lWA Sections as an example. It was also a trip of goodwill and solidarity on the occasion of the 30th anniversary of the ASF-lWA, our Australian section, and 60 years of the lWA in Australia. (Both the Bulgarian and Spanish CNT in exile had organizations in Australia and tried to carry on the legacy and spread anarchosyndicalist ideas in that country.)
Public events were held in the largest cities in Australia – Brisbane, Sydney, Melbourne and Perth. The talks were well attended, not only by members and supporters of the ASF, but by a variety of other libertarian people. Workshops and discussions also took place. An event was hosted by Jura Books and discussions took place in the Melbourne Anarchist Club. Members of the ASF and the Secretariat also visited the last living veteran of the Spanish Revolution in exile and another long time activist of the CNT exile, born in exile. On behalf of the lnternational Workers Association, we wished them much health and happiness and thanked them for their work in bringing the ideas of anarchosyndicalism and the lWA to Australia.
During the trip, we also protested at the Spanish Consulate in Melbourne to demand the release of puppeteers arrested by the Spanish state on trumped up charges. (One of them is a comrade of the CNT-AlT.)
We also spoke to members of the ASF affiliated unions, the Telecommunications Workers' Association and the General Transport Workers' Union. At the time of our visit, the former was carrying out negotations with other unions on a enterprise agreement at one large telecommunications company.
We were glad to see that there was a lot of interest in Australia and that the ASF is going forward. We thank all the comrades of the ASF and others (Jura Books, MAC, etc.) for their hospitality, for the nice receptions and the chance to meet and discuss.
Long live anarchosyndicalism in Australia and the whole world!
lWA Secretariat