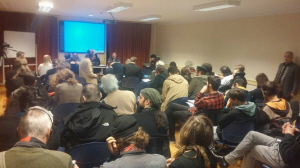 On December 6-7, 2014, an Extraordinary Congress of the IWA took place in Porto, Portugal. On the Agenda were unfinished items of business from the XXV Congress of 2013, plus new motions and initiatives. 80 delegates and observers from 13 Sections and one Friend organization took part.
Emotions ran high throughout the Congress. Again some outstanding matters need to go to the next Congress in 2016. A number of new iniatives were passed, including the creation of a media group, a historical project and the go-ahead for broad centenary celebrations in 2022.
We welcome the OLS from Sweden as new Friends of the IWA. We were all pleased to hear about their work and success in a few work conflicts and look forward to fruitful cooperation in the future.
In addition to the Congress, an open meeting was held on Saturday night. The STSI of Madrid, SOV from Porto, OLS, SolFed, ZSP, COB, CNT-AIT France and ASI spoke about different work conflicts and struggles in their countries. Unfortunately time ran out before everybody could speak. Nevertheless, it was very interesting and uplifting to listen to, reinforcing our mutual struggles, goals and tactics and increasing solidarity and morale.
We thank the comrades of AIT-SP for organizing the event and for excellent prepartion of the Congress!
We hope that in the upcoming year our new initiatives will start to develop and the Sections will continue to fight their local struggles and improve international coordination.
We also thank all the organizations which sent solidarity greetings to the Congress.
General Secretary,
IWA