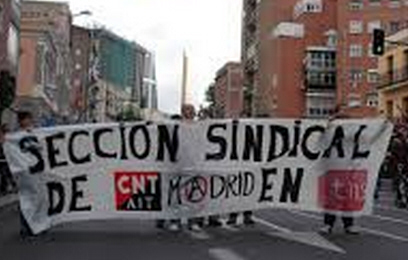 This week the IWA is supporting actions against the international polling company TNS and its major clients in response to its firing of a CNT union delegate in Spain and its refusal to speak with the union. The sections of the International will be letting the companies involved know of their disapproval of TNS actions all week long.
TNS is a multinational market research and market information company, with offices in 19 countries in Asia and 37 countries in Europe etc. Over the past 2 years in Spain, TNS has been introducing worse and worse working conditions, making the work mroe precarious, eliminating bonuses, making people work 12 hour days (against the law) and making people work in really tight spaces. During an 8 hour day, the pollster receives two 5-minute breaks of break and one 20 minute break – the situation over 12 hours is even worse.
The CNT delegate had worked in TNS for 5 years before he was dismissed in November 2013. He had been protesting the worsening work conditions. The comrades at CNT see this as a union-busing action, to get rid of a worker who was organizing in the workplace and fighting for the workers' rights.
Over the last few months, the CNT has been protesting the dismissal by picketing not only TNS, but also its makor clients such as Volkswagen. The IWA shows its support for the actions of the comrades in Spain and we will join in demanding the reinstatement of the union delegate in TNS.
Reinstatement now!
TNS stop exploiting workers!