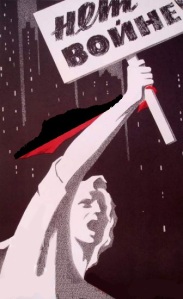 NO WAR! STATEMENT OF THE IWA SECTION IN THE REGION OF RUSSIA / NO A LA GUERRA! DECLARACIÓN DE LA SECCIÓN DE LA A.I.T. EN LA REGIÓN DE RUSIA (Engl., Esp.)
The war has begun.
What people were afraid of, what they warned about, what they did not want to believe in, but what was inevitable – happened. The ruling elites of Russia and Ukraine, instigated and provoked by world capital, greedy for power and bloated with billions stolen from the working people, came together in a deadly battle. Their thirst for profit and domination is now paid with blood by ordinary people - just like us.
The first shot was fired by the stronger, predatory and arrogant of the bandits – the Kremlin. But, as always happens in imperialist conflicts, behind the immediate cause lies a whole tangle of disgustingly stinking reasons: this is the international struggle for gas markets, and the desire of the authorities of all countries to divert the attention of the population from the tyranny of "sanitary" dictatorships, and the struggle of the ruling classes of the countries of the former Soviet Union for the division and redistribution of the "post-Soviet space", and larger-scale and global contradictions, and the struggle for world domination between NATO, led by the USA and China, challenging the old hegemon and fastening its "little brother" in the Kremlin to its chariot. Today these contradictions give rise to local wars. Tomorrow they threaten to turn into a Third World Imperialist War.
Whatever "humanist", nationalistic, militaristic, historical or any other rhetoric justifies the current conflict, behind it there are only the interests of those who have political, economic and military power. To us, working people, pensioners, students, it brings only suffering, blood and death. Bombing of peaceful cities, shelling, killing people have no justification.
We demand an immediate cessation of hostilities and the withdrawal of all troops to the borders and lines that existed before the start of the war.
We call on the soldiers sent to fight not to shoot at each other, and even more so not to open fire on the civilian population.
We urge them to refuse en masse to carry out the criminal orders of their commanders.
STOP THIS WAR!
BAYONET TO THE GROUND!
We call on people in the rear on both sides of the front, the working people of Russia and Ukraine, not to support this war, not to help it - on the contrary, to resist it with all their might!
Don't go to war!
Not a single ruble, not a single hryvnia from our pockets for the war!
Strike against this war if you can!
Someday - when he has enough strength - the working people in Russia and Ukraine will demand the full responsibility from all presumptuous politicians and oligarchs who set us against each other.
We remember: NO WAR BETWEEN WORKING PEOPLE OF RUSSIA AND UKRAINE!
NO PEACE BETWEEN CLASSES!
PEACE TO HOUSES - WAR TO PALACES!
Section of the International Workers Association in the Russian Region