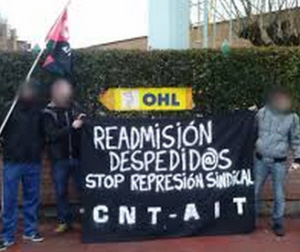 The IWA expresses it continued support of the actions to reinstate Angel, dismissed from OHL company in Madrid. He had worked in the company for over 10 years without problems but OHL, one of 4 companies which cleans the streets of Madrid, dismissed him and others. The CNT has been struggling for the comrade's reinstatement and we send our solidarity and will renew actions at OHL offices in different countries where the IWA is present.
According to the CNT:
"A few weeks after Angel was sacked, Madrid cleaning services begin a strike against the legal threat announced by OHL and the rest of subcontractors of firing 1400 workers and reducing salaries for the rest by about 40%. An agreement which was really negative for workers was signed by the bureaucratic unions CCOO, UGT and CGT, with 45 days suspended job and salary, a wage freeze for the next 4 years, and destruction of jobs that open up when workers retire. The unions and company also condemned the 350 workers already sacked.
We want to show Villar Mir, the owner of OHL, the rich ones that oppress and fire, and the politicians here in Madrid, Ana Botella and all her tribe of thieves, who knew the new subcontractors were going to sack a lot of workers, that this conflict is just beginning."