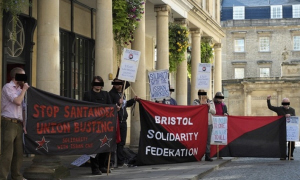 A CNT union section was formed in Isban-Santander Bank on August 19th, 2013 at Madrid. This group of precarious workers denounced illegal trafficking of staff from Panel Sistemas to Isban.
More than 10,000 workers around the world are affected. They are not considered Isban workers, although they work for Isban in its facilities, with their tools and under their managers' orders.
Panel Sistemas and dozens of "meat traders" companies benefit from workers renting. This way, Santander Bank has free sacking whenever they want.
This makes workers ACCEPT free overtime, neverending working days, and depreciated salaries.
After several weeks of fight in the company, the CNT delegate is fired by Isban-Santander Bank and sent to work at Panel Sistemas offices. The conflict spreads thanks to the solidarity of the International Workers Association.
During six months, Panel Sistemas managers KEEP pressing the worker at his new workstation, trying to make him stop claiming for decent working conditions for the staff. At the street, an international boycott campaign against Isban, Santander Bank and Panel Sistemas is supported by dozens of revolutionary unions worldwide.
An assembly of independent workers is formed in Panel Sistemas to protest against the salaries decrease. Just after this, the CNT union delegate is definitively fired because of economic causes.
Despite this repressive attack, the boycott campaign KEEPS growing. Actions take place in 13 different countries (Spain, Portugal, France, UK, Germany, Norway, Poland, Slovakia, Russia, Brazil, Argentina, Uruguay and the United States of America).
Dozens of pickets and actions are carried out inside the spanish state (Albacete, Alcorcón, Alicante, Aranda de Duero, Aranjuez, Arnedo, Ávila, Barcelona, Boadilla del Monte, Boñar, Burgos, Cádiz, Camp de Morvedre, Candás, Chinchilla de Montearagón, Ciudad Rodrigo, Donostia, Elx, Gijón, Granada, Guadalajara, Huesca, Iruña, Jerez, La Bañeza, Lasarte-Oria, León, Madrid, Mérida, Miranda de Ebro, Motril, Ontinyent, Oviedo, Pilar de la Horadada, Pineda de Mar, Pontevedra, Pozuelo de Alarcón, Rivas, Sagunt, Salamanca, San Pedro del Pinatar, Santa Perpetua, Santander, Tarragona, Toledo, Villar, Vigo, Zaragoza).
Meanwhile, the companies and the official press KEEP silent.
Anarcho-syndicalists claim for the fired worker reinstatement and the end of workers trafficking. In addition, they inform of Santander Group outrages (hundreds of firings, tax evasion, irregular purchasing of banks, multi-million severance packages for managers, the case of the Swiss bank accounts of the Botín family, sale of junk mortgages and assets, evictions and real estate speculation, charging of abusive interest rates, shady dealing with universities, participation in arms companies or in financial management of the spanish penitenciary system).
Recently, new protests were done in places like Santiago (Chile), where groups of friends of the International Workers Association are spreading anarcho-syndicalist actions and ideas.
In places like Madrid, Mérida, Boñar and Villar (León) supportive graffities appeared on the bank branches' walls.
A new international day of action is scheduled for the next September, 11th in order to force the worker reinstatement before the trial, that is set for September, 29th.
While there is exploitation and inequality we will stand up, united peers without subsidies or leaders. Fighting for our dignity and emancipation. Towards Social Revolution.
RIGHTS ARE WON THROUGH STRUGGLE
Sección sindical en Isban y Panel Sistemas
Sindicato de Telecomunicaciones y Servicios Informáticos
CNT-AIT Madrid
http://informaticamadrid.cnt.es/
http://informaticamadrid.cnt.es/seccion/isban
isban[arroba]cnt.es
#KOalSantander