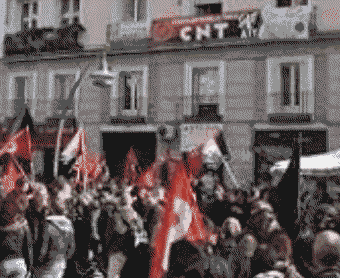 We would like to express our support for the CNT Local Federation of Madrid in their struggle against attempts to disrupt their activity and evict them from their historic premises.
The Local Federation was the largest in our former Spanish section but on October 27, that organization purged its largest remaining concentration of anarchosyndicalists, expelling more than 500 people from the organization now known as CNT-CIT. While the issue was still being discussed during a regional plenary, a group of people led by the regional Secretary attempted to take posession of the offices, changing the locks and attacking two women. When this incident was reported to members of the Federation, they recouperated the premises where they are carrying out their activity as usual.
Two unions of this Federation, having collaborated against the rest of the comrades, are now outside both expelled from CNT-CIT and are outside the Local Federation – the Transportation Union and Graphics Arts.
The exclusion of the largest federation occurred just one week before a national plenary which focused on the ratification of the creation of a new international formation known as CIT, thus excluding the most important voices of those inside the organization who have been critical of this.
We condemn these attacks on our comrades but hope that they will remain strong in the desire to continue the struggle and work towards the renewal of the anarchosyndicalist movement in Spain.
The comrades of the Local Federation of Madrid have shown international solidarity in so many conflicts involving the Sections of the IWA and they can count on our support.
Long live anarchosyndicalism, internationalism and the CNT-AIT!
IWA Secretariat