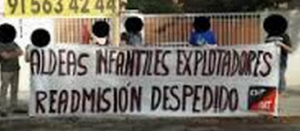 On February 7, 2014, our comrade from CNT in Spain was dismissed from his job as educator at an SOS Children´s Village in Catalonia. He had begun to observe various violations of workers rights including unpaid overtime, not being able to use vacation time, some health and safety violations, etc. etc. He tried to get the employer to comply with norms and also informed the work inspection of these violations. A few days later he was fired. The CNT and the IWA consider that the dismissal was retaliation for the worker insisting that the employer comply with regulations. Action were held on the national level on Spain and solidarity was shown internationally by the IWA Sections. We are pleased to inform that recently this comrade was reinstated in his job.
According to the decision of the Barcelona Labor Court no18, our comrade's firing is considered to be void due to violation of his fundamental rights and the NGO was ordered to reinstate him to his workplace, with the same functions and conditions, giving him back pay from the date of the firing and an additional €6,000 compensation.
For now, the reinstatement has been made effective, as has the back pay payment, although the amounts don't seem quite right and are being double checked by our comrade. SOS Children's Village has decided to appeal the sentence so the compensation is blocked in the courts.
There is no agreement yet on the vacation time owed, as we believe our comrade has a right to enjoy all of it while the organization thinks it only owes the time accrued from the day of the reinstatement. Negotiations are ongoing so that this won't escalate.
The worker's contract has changed from temporary to permanent, which we see as a great
improvement.
After talking to other workers on the day of the reinstatement, some superficial improvement of work conditions is apparent; these have occurred thanks to the conflict initiated after our comrade's complaints and specially the direct actions taken. There's still a lot to do though, that's why the CNT is creating a union section there.