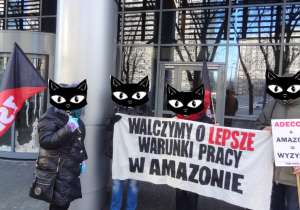 We call for actions against Amazon and Manpower work agencies for January 26-31, 2015. (Adecco or Randstad agencies may also be picketed). Workers at Amazon warehouses in Poland are fighting back against irregulariities and poor working conditions.
While workers organize themselves and take industrial action in some European locations, Amazon opened two new fulfillment centers in Poland, where the workers earn only a fraction of their European counterparts. There have been many reports of abuse at the workplace, from both people employed directly by Amazon and by agency workers (from Manpower, Adecco and Ranstad agencies).
The ZSP union in Amazon reports a number of irregularities such a late payments, incorrect payments (too little), not paying for time employed but not assigned work, workers without health insurance, health risks and other problems such as different pay in the two warehouses, lack of paid breaks, too little time for lunch.
A protest letter can be sent to the companies from an email form here: amazon.zsp.net.pl
Organizations can also send mails on their letterhead to CEO Jeff Bezos jeff@amazon.com or to CEE Director Kerry Person kerry.person@amazon.com
For a sample leaflet, please write to: secretariado@iwa-ait.org
For Better Working Conditions in Amazon!
Support the struggle of workers at two fulfillment centers in Poland for better working conditions!
As the Amazon workers in UK, France and Germany have organized themselves and have even gone on strike, Amazon decided it would be profitable for them to find a cheaper workforce, more desperate for employment. They opened two centers in Poland, where the wages are only a quarter of those in Germany. The warehouse mostly services orders for other countries, especially Germany.
The working conditions are even worse than in other countries. Not only the low pay and long hours. Some Amazon workers, especially those hired by agencies, complain of a number of problems including late payments, incorrect payments, not having the mandatory health insurance payments, etc. etc. There is also the matter of workers in one center having a higher rate than int he other.
Send a letter of protest to Amazon and to their agencies – Manpower, Adecco and Randstad! You may send the sample protest below or you can change the text and send your own.
We are writing to support the campaign for better working conditions in Amazon Poland. Many workers have complained of late and improper payments. Some complain that they were not paid for the time they after they were hired but not working (postojowe) and that they were not insured with social security. The workers in Bielany Wroclawskie make less money than in Sady. They are forced to move heavy loads with hand-held carts. The work long hours without a break and hardly have any time to eat lunch. For all their hard work, they earn starvation wages.
We support demands of workers to get what they are entitled to under Polish law plus equalization of wages, a paid break and extra payment for work in the night and on Sunday!
No to exploitation in Amazon!
Mail to: CEO Amazon
jeff@amazon.com
Kerry Person, Director of Operations, CEE
kerry.person@amazon.com
Manpower Headquarters, US
Ania.Waszkiewicz@manpowergroup.com
Poland Headquarters, Manpower
manpowergroup@pl.manpowergroup.com
Poland Headquarters, Adecco
biuro.hq@adecco.com
Randstad Polish Headquarters
firma@randstad.pl