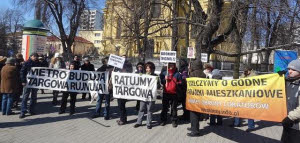 From March 21-28, IWA sections participated in actions related to housing. ZSP organized various actions in Warsaw, related to ongoing struggles, against
gentrification and against attacks on working class and poor people on the part of those profiting from their dislocation: investors and politicians.
Starting from March 21, we reactivated the Okrzejowki Brigades. These Brigades were called into existence at the end of 2011 to patrol the Praga neighbourhood in Warsaw
against arson attacks by gentrifiers and to build community self-defense. They were successful and for over one year the attacks of the gentrifiers stopped. After a new
wave of arson attacks against poor people in areas attractive for developers, the ZSP Warsaw reactivated the brigades.
On March 23, there was a protest related to the extreme negligence of the city and the firms building a metro line in this same neighbourhood. Due to a lack of any safety
measures, buildings are suffering great damage and falling. People have been forced out of their homes; others are fighting for protection from the consortium that refuses to provide any. The office of ZSP is right on the street where the metro is being built and it is likely that the building across the street will be evacuated. Despite the freezing
cold, neighbours came to speak out against this situation. All condemned the criminal behaviour of the city and consortium and expressed the opinion that they were
intentionally letting the construction ruin one of the only areas of the city which survived the Nazi decimation in order to clear the terrain for the future profits of
developers.
Finally, all during the week, we will be going around the neighbourhood, leafleting postering and continuing with other actions against gentrification and for community
direct action and self-defense, calling for popular assemblies and popular control of public housing.