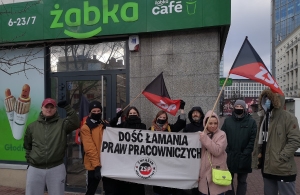 From October 10-16, 2022, the International Workers' Association is holding an International Week of Actions against Unpaid Wages.
The ZSP-IWA will be holding two protest actions at Zabka convenience stores – one in Warsaw on October 9 and a week later, in Grodzisk Mazowiecki.
Zabka is a large chain of convenience stores; there are over 8000 Zabkas throughout Poland. It is owned by Luxembourg-based CVC Capital Partners (a spinout from Citicorp) and operates as a franchise which requires low capital investment (but with lots of strings attached). Each shop is operated by the franchisee.
Unfortunately, in many Zabka shops throughout Poland, working without contracts, wage theft and illegal fines are the norm – not to mention denying workers the benefits they should be entitled to. Members of ZSP are constantly contacted by people who are cheated in Zabka stores and we have already taken a number of successful direct actions.
We have decided to try to do some sort of more systematic campaign at Zabka and a few workers wanted to make protests at the shops were they were cheated. We will deliver a demand letter to the owners of these franchises and protest, all the time trying to call more attention to these problems which are very common. We will demand that Zabka as a whole take more responsibility for ensursing legal working conditions in their franchises.
We are also working on another action as we are helping some Ukrainian workers at a thieving printing press. This is still under discussion and we think that this will not take place during the week of action, but later. The difficulty with this situation, where the boss does not give contracts to all workers or gives them trash contracts so as not to pay vacation days is that some of the workers not only have no contracts but no work permits. We are still discussing how to avoid difficulties for the workers. It should be noted that Ukrainians who came after the war are able to work in Poland legally but there are many thousands who came before who are still working without any type of permit, so there is a big discrepancy here. At this printing press, some workers have failed to get their salaries in the last two months or received less than they should have. In the meanwhile, the boss is somewhere in Spain, either hiding, on a long vacation, or perhaps just happily spending the money he did not pay the workers. If we locate him, we will ask comrades in that country to pay him a visit!
STOP WAGE THEFT!
ORGANIZE YOURSELVES AND FIGHT BACK!
ZSP Warsaw