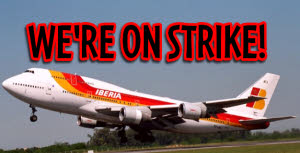 The Spanish airline Iberia is laying off 3807 workers and cutting wages between 20-40%. Days off and vacations will be significantly reduced, amongst other rights as well. This will allow to sell off Iberia workers very cheaply in the near future.
This is the reason why we are have been on strike for 10 days (we already went on strike for 5 days in February). The CNT union section calls for all possible measures to put Iberia under pressure: leaflets, grafittis, pickets, sits-in. They shall take place wherever Iberia is present: airports, offices in the cities... We aim to combine all our forces internationally to stop the plans of dismantling the airline.
Also at official offices of Spain and the airlines British Airways (http://www.britishairways.com/travel/ctclist/public/en_gb)
We would appreciate it, if you sent us pictures and videos of your actions.
Thank you very much in advance. All our best wishes.
CNT Union Section in Iberia
More information:
https://iwa-ait.org/es/content/strike-and-mobilizations-iberia-worker...
See article in External Bulletin: https://iwa-ait.org/content/iwa-external-bulletin-4
http://iberia.cnt.es/secciones-sindicales/iberia/111-que-esta-pasando-en...
INTERNATIONAL ADDRESSES OF IBERIA
MEXICO
OFICINA IB/MEX : AV. EJERCITO NACIONAL NUM 436 PESO "MXN"
PISO 9 COLONIA CHAPULTEPEC MORALES
CODIGO POSTAL 11570
MEXICO D.F. MEXICO
GUATEMALA
IB * GUATEMALA SP 26JUL10 2142Z
******** OFICINAS DE CIUDAD *********
AVENIDA DE LA REFORMA 8-60 ZONA 9
EDIFICIO GALERIAS RFORMA
QUINTO NIVEL OFICINA 507
CUBA
* DIRECCION RESERVAS/BILLETES/INFORIBERIA:
CENTRO DE NEGOCIOS MIRAMAR
EDIFICIO SANTIAGO DE CUBA - OFICINA 215
5A. AVE. ESQUINA A 76 - MIRAMAR - PLAYA - CP11300
LA HABANA
PANAMA
IB * PANAMA
AVENIDA BALBOA Y CALLE 43
EDIFICIO BANCO BILBAO VIZCAYA
PLANTA BAJA
ECUADOR
QUITO
DIRECCION: AV. ELOY ALFARO N30-341 Y AV. AMAZONAS,
EDIF. FINANDES, 5TA PLANTA (QUITO - ECUADOR)
VENEZUELA
IB * CARACAS EN 6AUG12 1705Z
- HORARIO: LUN A VIE 0800 A 1700
SABADO DOMINGOS Y FESTIVOS * CERRADO *
++ AVD. FRANCISCO DE MIRANDA EDF PARQUE CRISTAL TORRE ESTE PISO 9
OFC. 9-10 LOS PALOS GRANDES
PERU
IB * LIMA EN 24APR08 1607Z
OFICINAS IBERIA/HORARIOS
DIRECCION:AVENIDA CAMINO REAL 390 TORRE CENTRAL DEL C.C.CAMINO REAL OF 902
SAN ISIDRO
CHILE
IB * SANTIAGO DE CHILE EN 6DEC12 1421Z
OFIC GENERALES : ALONSO DE CORDOVA 5151, PISO 20
TELEFONO: 562 870 1000
FAX: 562 870 1050
LAS CONDES, SANTIAGO DE CHILE
BRASIL
IB * SAO PAULO EN 13APR11 1416Z
OFICINA BILLETES........ RUA ARAUJO, 216/3 PISO
SAO PAULO, SP - 01220020
IB * BUENOS AIRES EN 11AUG09 1338Z
URUGUAY
OFICINA CENTRAL : CARLOS PELLEGRINI 1161
TELEFONO 4131-1000
IB * MONTEVIDEO EN 16MAR09 0858Z
DIRECCION : COLONIA, 975 C.P. 11.100
GERENCIA : TELEFONO: 902 12 59 / 901 43 43
FAX: 902 32 84
BÉLGICA
IBERIA BRUSSELS
CULLIGANLAAN 2C
1831 - DIEGEM
OFFICE HOURS -- MONDAY- FRIDAY -09H00-17H30
FRANCIA
IB * PARIS EN 29AUG12 1242Z
:NO ABIERTO AL PUBLICO
96 BOULEVARD HAUSSMAN
75008 PARIS
ITALIA
IB * MILAN EN13NOV12 1221Z
IBERIA - VIA ALBRICCI 8 - 20122 MILANO
HORARIO LUNES/VIERNES 09.00/15.00
SABADO/DOMINGO Y FESTIVO CERRADO
DINAMARCA
IBERIA
COPENHAGEN AIRPORT TERMINAL 2 1.ST FLOOR
2770 KASTRUP
FAX : 33 93 75 85
THIS OFFICE IS CLOSED FOR THE PUBLIC
Look for addresses here:
http://www.iberia.com/oficinas/